Wrapide CW-01 Round Bale Weatherproofing Wrapper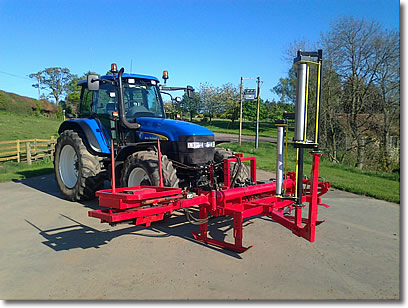 This is a new machine which will help farmers to reduce wastage in outside stored round bales, therefore saving them money. It works by applying plastic film around the circumference of individual round bales to protect them from the weather.
It has been designed to be robust, easy to use and capable of high work rates. It is self loading and unloading, therefore only requiring one tractor to do the job.
The Wrapide CW-01was on view for the first time at the Royal Highland Show, where it was awarded a Silver Medal for Technical Innovation.
Features
SIMPLE & COMPACT DESIGN
FRONT MOUNTED FOR SUPERIOR VISABILITY
SELF LOADING & UNLOADING
OFF-SET TURN TABLE ENABLES THE WRAPPER TO WORK THROUGH ROWS OF BALES
FOLDS UP FOR TRANSPORTATION
CLOSE COUPLED MACHINE REDUCES STRESS ON TRACTOR
SIMPLE IN-CAB CONTROLS
180° TURNOVER MECHANISM ALLOWS THE TRACTOR TO KEEP IN A FORWARD MOTION, WORK THROUGH ROWS OF BALES AND ACHIEVE VERY HIGH WORK RATEs of around 120 bales per hour
TWIN 750MM FILM DISPENSERS ARE HEIGHT ADJUSTABLE WHICH ALLOWS YOU TO OVERLAP THE PLASTIC FILM OVER THE EDGE OF THE BALES IF DESIRED
TWO HEIGHT ADJUSTABLE SKIDS ALLOW THE WRAPPER TO ACCOMMODATE VARiOUS BALE SIZES; WHILE WORKING THEY REST THE WRAPPER ON THE GROUND WHICH KEEPS THE WRAPPER STEADY AND ALSO REDUCEs THE STRAIN ON THE TRACTOR
FAST AND RELIABLE CUT & HOLD MECHANISM HELPS TO MAXIMISE WORK RATES
REQUIREs only SIMPLE MAINTENANCE
LOW RUNNING COSTS
Watch the Wrapide in action
Front Machinery - forward thinking technology
With the price of straw reaching such high levels over the past few years, many farmers will be looking for ways to reduce their straw costs.
By leaving bales outside and uncovered over the winter, over 50% of the bale can be wasted due to them absorbing water.
Front Machinery offers a cost effective solution to this age old problem. By wrapping the bale's circumference in a small amount of plastic film, a cost effective solution is achieved.
One roll of film can wrap 90 bales, giving a film cost per bale of under 65p. You only need to reduce your bale wastage by 10 - 15% to make the Wrapide pay.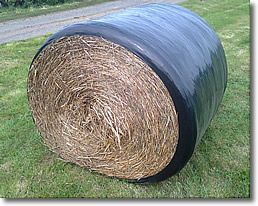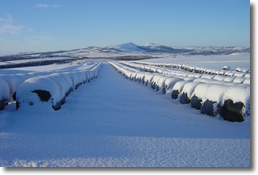 Benefits
REDUCES WASTAGE IN OUTSIDE STORED STRAW
BY REDUCING WASTAGE HUGE SAVINGS CAN BE MADE
YOU COULD FREE UP VALUABLE SHED SPACE BY STORING YOUR BALES OUTSIDE
YOU Will noT HAVE ANY HEAVY WET BALES TO ROLL OUT OVER THE WINTER
ON FROSTY MORNINGS YOU Will not HAVE THE PROBLEM OF THE NET WRAP STICKING TO THE BALES
BY LEAVING THE ENDS OF THE BALES OPEN, THE BALE IS ABLE TO BREATH AND LESS LIKELY TO HEAT
YOU Will noT HAVE TO SPEND £1000'S ON BUILDING A STRAW SHED
YOU WILL NOT NEED TO BUY IN AS MUCH STRAW WHICH WILL not only save money, but will also SAVE YOU TIME DUE TO REDUCED handling and TRANSPORT
IF YOU USE YOUR OWN STRAW YOU COULD BE SELLING THE SURPLUS